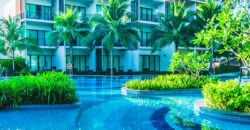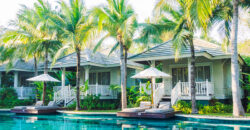 Description
Discover Opulent Living at GHD Grand Residences: Your Ultimate Abode in Thivim, Goa
Welcome to GHD Grand Residences, an epitome of luxurious living nestled in the captivating coastal realm of Thivim, Goa. Set against the backdrop of verdant tropical landscapes and serene palm-fringed beaches, this exceptional residence offers an unparalleled experience for discerning individuals in pursuit of opulence and comfort. Situated in Thivim, Goa, GHD Grand Residences presents a wide array of premium amenities designed to elevate the comfort and convenience of both residents and guests.
Key Features of the Project
Personalized Concierge Services: Our dedicated team provides bespoke assistance, recommendations, and seamless reservations.
Elegant Swimming Pool: Unwind and rejuvenate in the expansive pool area, complemented by lavish facilities.
Exclusive Lawn Tennis Court: Enthusiasts can revel in the meticulously maintained tennis court, with available equipment for rent.
Gracious Entrance Lobby: A welcoming ambiance awaits in the stylish lobby, ensuring a seamless check-in and check-out experience.
Versatile Multipurpose Hall: The multipurpose hall offers a blend of flexibility and functionality, ideal for meetings, events, and gatherings.
Eco-conscious Sewage Treatment: We prioritize sustainability with an eco-friendly wastewater disposal system.
State-of-the-art CCTV Surveillance: Round-the-clock monitoring ensures the safety and security of residents and their possessions.
Secured Gated Community: Controlled access creates a private and secure living environment, ensuring peace of mind.
Well-equipped Fitness Center: Stay active and maintain your fitness regimen in our cutting-edge gymnasium, providing a range of exercise options.
Proximity to Key Landmarks
GHD Grand Residences' prime location in Thivim offers residents a plethora of advantages, surrounded by 24 residential projects that contribute to the area's reputation as a sought-after destination in North Goa.
Calangute: A mere 19 km away, Calangute beckons with its vibrant nightlife and exciting water sports activities.
Tivim Railway Station: Just 5 km distant, offering convenient connectivity to various destinations within Goa and beyond.
Mapusa Market: Situated a short 9 km from GHD Grand Residences, this bustling hub offers an array of local produce, spices, clothing, and more.
Anjuna: Located 11 km away, Anjuna's picturesque beaches, flea markets, and beachside shacks create a distinctive charm.
Baga: A mere 12 km away, Baga is renowned for its lively ambience, beach parties, and diverse water sports activities.
Morjim: Situated 12 km from the project, Morjim boasts a tranquil beach frequently visited by nesting turtles, inviting relaxation.
Upcoming New International Airport Mopa: Positioned 18 km away, the upcoming airport enhances air connectivity and convenience.
Panaji: Goa's capital city, Panaji, lies 25 km away, offering a fusion of historical landmarks, cultural attractions, and lively local experiences.
GHD Grand Residences invites you to embrace opulence and tranquillity in Thivim, Goa, offering a range of 4 BHK Villa residences designed to elevate your living experience.