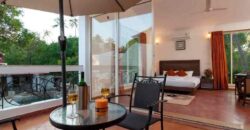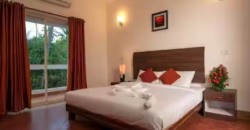 Description
Discover your dream residence, cradled within the serene embrace of nature, at Nest Whispering Woods—an exquisite residential masterpiece located in North Goa, Goa. Meticulously crafted by the renowned Nirvana Group, this ready-to-move project seamlessly blends opulence and tranquillity, redefining the art of luxurious living.
Project Details:
Size: Spanning a generous range from 1721 to 2033 SQ. FT.
Project Type: Purely Residential
Project Status: Ready to Move
Configurations: Exclusive 3 BHK offerings
Location: Nestled in the northern realms of Goa, a coveted coastal haven
Amenities:
Nest Whispering Woods invites you to explore the lap of luxury within the Empire Village. Here, your every aspiration for a life of opulence is catered to. The project boasts a resplendent clubhouse, a state-of-the-art fitness centre, and meticulously landscaped gardens. Whether it's a refreshing dip in the azure swimming pool or crafting cherished memories in the capacious party hall, your desires find their home here. With vigilant round-the-clock security, unwavering power supply, and seamless Wi-Fi connectivity, your safety and comfort are of paramount importance.
Unique Features:
Flooring: Indulge in the elegance of vitrified tiles that grace the living/dining areas, bedrooms, and balconies. These premium tiles promise both aesthetics and functionality, while anti-skid ceramic tiles on the balconies ensure safety, even in wet conditions.
Wall Finish: Revel in the tasteful aesthetics of acrylic emulsion paint that adorns the internal walls, creating an inviting and well-lit living environment. Externally, the walls feature a captivating combination of stone, textured paint finish, and glass, adding sophistication to the architectural design.
Kitchen: The heart of your home, the kitchen, boasts ceramic tile flooring and dado tiles extending 600mm above the counter and up to 1500mm on non-counter walls. It's a perfect blend of practicality and style.
Investment Potential:
As an esteemed real estate expert, I assert that Nest Whispering Woods presents a compelling investment opportunity. Its strategic location in North Goa, a perennially sought-after tourist destination, ensures sustained demand for high-quality residential properties. Moreover, the Nirvana Group's track record of delivering excellence adds an extra layer of assurance to the project's potential for future value appreciation. Whether you seek a comfortable family abode or a lucrative investment, Nest Whispering Woods offers the best of both worlds.
In conclusion, Nest Whispering Woods transcends the definition of a mere residential project; it epitomizes the marriage of luxury and serenity in the heart of North Goa. Boasting top-tier amenities, elegant finishes, and promising investment potential, it offers a rare opportunity to experience the finest in coastal living. Don't miss your chance to make this idyllic haven your forever home.