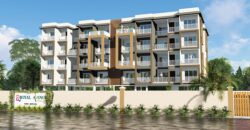 Description
Unveiling Paradise Homes: Where 2BHK Dreams Take Shape
Welcome to Paradise Homes, a haven of tranquillity and luxury nestled in the heart of North Goa. If you've been envisioning a life of comfort, style, and serenity, your search ends here. Paradise Homes presents an unmatched living experience, meticulously curated to meet your every need and desire.
Luxury Redefined in Spacious 2BHK Layouts
Step into opulence with our thoughtfully designed 2BHK residences, where space and elegance intertwine seamlessly. Each aspect of Paradise Homes has been carefully crafted to elevate your living experience to new heights.
Exceptional Amenities for an Elevated Lifestyle
Indulge in a life of convenience, comfort, and leisure at Paradise Homes, where every amenity has been meticulously tailored to provide a truly exceptional living experience.
Recreational Spaces:

Engage in a healthy lifestyle with dedicated recreational zones that cater to your physical and mental well-being.

24×7 Security:

Your safety is paramount. Rest easy with round-the-clock security ensuring a peaceful living environment.

Lush Landscapes:

Immerse yourself in the serenity of nature with meticulously landscaped gardens and lush green surroundings.

Parking Convenience:

Enjoy hassle-free parking for residents and guests, ensuring a seamless experience.

Swimming Haven:

Unwind and rejuvenate in the inviting swimming pool, perfect for relaxation and quality leisure time.

Elevators:

Effortlessly move within the premises with convenient elevator access to all floors.

Continuous Water Supply:

Enjoy uninterrupted water supply, ensuring your needs are met around the clock.

Power Backup:

In the event of power outages, our backup ensures an uninterrupted electricity supply for your comfort.

Fire Safety Measures:

Your safety is our priority. Fire safety systems are strategically placed for enhanced security.
Paradise Homes North Goa – Location Benefits
Amidst these location advantages, Paradise Homes offers residents easy access to travel, stunning beaches, key destinations, and a chance to explore the region's natural and cultural treasures.
Proximity to Prominent Locations:

Enjoy quick connectivity to essential destinations, ensuring convenience in your daily life.

Beachside Delights:

Immerse yourself in the beauty of North Goa's beaches, with a mere drive granting access to sun, sand, and sea.

Access to Urban Amenities:

Experience the best of urban living with proximity to shopping centres, cultural landmarks, and more.

Nature Retreats:

Discover the natural splendour of the region with serene spots for relaxation and exploration.
Embrace the 2BHK luxury at Paradise Homes and unlock a life of unmatched splendour.