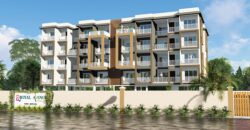 Description
Introducing GHD Infra Royal Avenue: Your Haven of 1BHK Luxury
Step into the realm of GHD Infra Royal Avenue, a remarkable apartment complex nestled in the scenic landscapes of North Goa. If you're in search of the perfect fusion of opulence, comfort, and serenity, your quest ends here. GHD Infra Royal Avenue brings forth an unparalleled living encounter, meticulously designed to cater to your every whim and aspiration.
Exceptional Amenities for a Refined Lifestyle
Experience a life of ease, convenience, and serenity at GHD Infra Royal Avenue, where every facet is meticulously tailored to provide an extraordinary living experience.
Cycling and Jogging Track:

Stay active and nurture a healthy routine on our invigorating outdoor track.

Concierge Service:

Our dedicated concierge service ensures your daily needs are met with seamless efficiency.

Landscape and Greenery:

Immerse yourself in the splendour of nature with our intricately crafted landscapes and verdant surroundings.

Parking Convenience:

Enjoy secure and hassle-free parking for both residents and guests.

Swimming Oasis:

Unwind and rejuvenate at the welcoming swimming pool, perfect for cherished leisure moments.

Swift Elevators:

Effortless vertical mobility within the complex, ensuring convenient access to all levels.

Round-the-Clock Water Supply:

Rest easy with an uninterrupted water supply catering to your requirements.

Power Continuity:

In case of outages, our power backup ensures an uninterrupted flow of electricity.

Fire Safety:

Your safety is paramount, with fire sprinklers strategically placed for heightened security.
Royal Avenue North Goa – A Locale of Advantage
Amidst these location perks, GHD Infra Royal Avenue offers residents easy travel, access to stunning beaches, proximity to key destinations, and the chance to explore the region's natural and cultural treasures.
Near the Upcoming Mopa Airport: Conveniently reach the upcoming Mopa Airport in a mere 20-minute drive, ensuring swift domestic and international connectivity.
Proximity to North Goa Beaches: Delve into North Goa's mesmerizing beaches with just a 40-minute journey, indulging in sun-soaked relaxation, beachside delights, and aquatic adventures.
Accessible to Panaji: A quick 40-minute drive leads to Panaji, Goa's capital city, granting effortless access to amenities, cultural marvels, shopping havens, and government offices.
Tilari Dam and Tourist Palace: Unearth the allure of Tilari Dam within 10 minutes, relishing panoramic vistas and a serene haven for nature aficionados. Nearby, the Tourist Palace beckons with sightseeing and exploration prospects.
Close to Sind-drug Tourist Spots: Experience the magic of Sind-drug with a short 5-minute drive to various tourist gems. Immerse yourself in the region's storied history, cultural landmarks, and legacy.
Incorporating 1BHK luxury, GHD Infra Royal Avenue invites you to embrace a life of unmatched splendor.
Property ID

3876

Price

₹72.00 Lacs*

Property Type

Apartment

Property status

For Sale

Bedrooms

1

Bathrooms

1

Size

807.3 SqFt

Label

Sale